This is the best quality hump bracket we carry. This rugged heavy black metal bracket is created out of two very high quality brackets to make one bracket that will hold a large radio off the floor.

This bracket fits almost ALL major brand DX type radios from
Galaxy, Ranger, Connex, General, Magnum, Stryker and Cobra(148GTL). ?
(and many more)
Heavy duty metal

Attractive black finish

Thumb knobs can be removed and replaced
with common hardware and lock washer for
an even stronger hold.

Upper part of the
bracket is 8" W x 4 1/2" H x 3"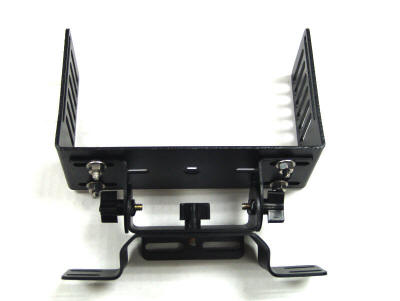 ---
We can also use this bottom section:



with any of these TOP sections:
Cobra 25LTD
6.5" X 4.25"

$33.50

Cobra 29LTD
7.5" X 4.25"

$33.50

Adjustable (light duty)
5" to 8-5/8" W

$30.50

EXTRA Tall Radio


8"W x 9"H x 3"

$37.50
New 5" model