The MaCo V-Quad is a Directional-Combined Vertical-horizontal polarization
plus high gain of 11 dB (14 dB stacked) makes the V-Quad an ideal inexpensive
beam for push-up mounting (stacks, too). Weighs only 8 pounds (stacked complete 24 pounds).
Instructions also included for 10 meters.
This antenna used to be called the VQ2-Quad for a long time just to signify that is
was not the 4 element quad that was available at the time. Now only the 2 element
is available so the model number changed to V-Quad.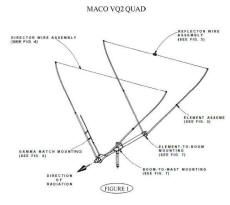 Made of aircraft alloy 6063-T5 aluminum tubing with .050" wall thickness,
additionally elements are made from 6006 an even tougher alloy. To prevent
fatigue failure, no holes are made in any boom or element.

HIGH PERFORMANCE and MADE IN THE U.S.A.

Stacking Kit available