Using a Quad reflector with a Yagi driven element, the Y-Quad combines the advantages of both designs to give the best performing lightweight antenna available, with switch-able polarity. The Quad reflector assures low angle of radiation even at low heights for real long distance performance.

The Quad reflector gives excellent front to back ratio of 25-30 db along with excellent forward gain.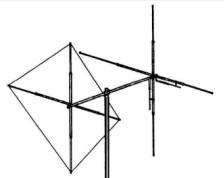 Made of aircraft alloy 6063-T5 aluminum tubing with .050" wall thickness, additionally elements are made from 6006 an even tougher alloy. To prevent fatigue failure, no holes are made in any boom or element.
Need Higher power?
Upgrade your gamma match to: