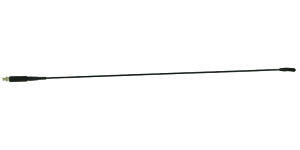 This 24" rubberized whip will provide better range than the original "rubber duckie" antenna.
It also increases the antenna bandwidth for those multi-extra channel units.
Fits all CB radios with a BNC connector on top:

Cobra HH-38, HH Roadtrip,
Midland 75-820, 75-822
Maxon HCB-40WX, HCB-30C and HCB-10C
Cherokee AH-27, AH-100
Magnum 1012
Northpoint AH-27
Many more...
Black rubberized.
Length 24"
Very flexible