Another new radio from the folks at Ranger Communications. This is very close to the MX-36HP3 but with higher powered Mosfets and a SuperStar name. It too is a DX radio that will fit in the Cobra 29LTD size holes. Very nice for those with a spot just right for a 29LTD (many standard holes in tractors are made for the Cobra 29 size).
• Classic Chrome Design
• 7 ŧ" Size Chassis (29 Size Chassis)
• 60 Watts PEAK Output Power
• Variable RF Power Control
• S/RF/SWR Front Panel Meter
• 4pin Front Panel Mic Jack
• Original Mirage Receive Circuit (famous)
• Real Channel Selector Control
• SRA-198 Noise Cancelling Mic Included
• Variable Echo and Talk Back Controls
• 3 Position Dimmer Switch
• Cool Blue LED Channel Display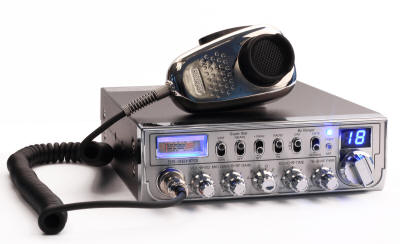 Ranger radios sometimes have a small scratch or ding that the factory covers with black touch up. We cannot effect this and do not guarantee your radio to be cosmetically perfect. Bells CB will make no marks or scratches on your radio ourselves. Ranger might though and I cannot control it.
The item most overlooked when ordering a custom radio is the microphone. Your new radio will NOT sound great with a stock mic on it even if you have it tuned. If your CB is more than a tool for work, you NEED to upgrade your microphone.
My personal favorites are the Astatic 636L and RD104E.