The PowerbandRFX-85©
The RFX85 is replacing the RFX75. Mechanically, the RFX85
features a new aluminumheatsink design with thicker ns for more
heat dissipation and greater performance. The newheatsink is
fan-ready and supports mounting of either one centered fan or
two side-by-side fans.Electrically, the RFX85 features a fully
regulated bias circuit with adjustable control pots for both the
ERF2030 driver stage and ERF7530 nal stage. The addition
of adjustable fully regulated bias greatlyimproves SSB performance
and allows for perfect uning to almost any radio circuit.
The RFX85 installs the same as the RFX75, so no need to
learn something new!
This is a complicated modification and should not be done by an amateur.
You should probably leave the installation and alignment to a proven technician.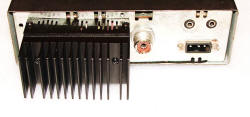 CURRENT MODEL PRODUCING
LOWER OUTPUT ON
GALAXY DX-949/959/979 RADIOS.
These work great on the Cobra 29 Series
but lower output on Galaxy radios.